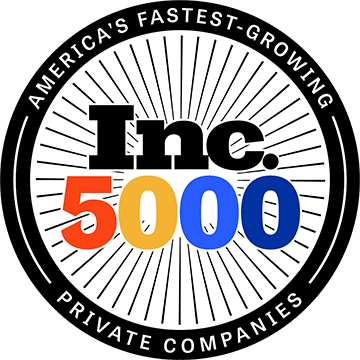 We are thrilled to announce that Operation Dental is No.1233 on the annual Inc. 5000 list, the most prestigious ranking of the fastest-growing private companies in America. The list represents a one-of-a-kind look at the most successful companies within the economy's most dynamic segment—its independent businesses. Facebook, Chobani, Under Armour, Microsoft, Patagonia, and many other well-known names gained their first national exposure as honorees on the Inc. 5000. Operation Dental is in the top one-third of companies on the list, marking a significant milestone in the growth of our organization.
"We chose to chase our vision instead of quick profits, and along that road, we found our key to success," says CEO Dr. Peter Kelly. "Our steadfast commitment to our founding values has allowed me to build my dream of what I always believed dentistry had the potential to be. I've watched Operation Dental blossom into an organization that makes a tangible difference in the lives of our doctors, employees, patients, and communities, and I look to the future of our company with great optimism and excitement."
The companies on the 2022 Inc. 5000 have not only been successful but have also demonstrated resilience amid supply chain woes, labor shortages, and the ongoing impact of Covid-19. Among the top 500, the average median three-year revenue growth rate soared to 2,144 percent. Together, those companies added more than 68,394 jobs over the past three years.
Complete results of the Inc. 5000, including company profiles and an interactive database that can be sorted by industry, region, and other criteria, can be found at www.inc.com/inc5000 . The top 500 companies are featured in the September issue of Inc. magazine, which will be available on August 23.
"The accomplishment of building one of the fastest-growing companies in the U.S., in light of recent economic roadblocks, cannot be overstated," says Scott Omelianuk, editor-in-chief of Inc. "Inc. is thrilled to honor the companies that have established themselves through innovation, hard work, and rising to the challenges of today."
We attribute our tremendous growth over a short period of time to our unique business model, strong management, and distinctive company culture. We've grown from a single practice with a handful of employees to 12 practices with over 165 employees in less than five years. With our revenue starting at $3 million in 2018, rising to $18 million in 2021, and projected to hit $28 million in 2022, it is clear that our management style promotes success and resonates with our dentists, staff, patients, and communities. Even as the global economy faltered following the COVID-19 pandemic, Operation Dental delivered solid results and experienced positive growth. Our resilience in a challenging environment speaks to our strength and paints an exciting picture for our future.
Operation Dental is breaking the DSO stereotype by pioneering a management style that prioritizes people over profits and always puts our dentists, employees, and patients first. By combining the best components of private and corporate dentistry, our ultimate goal is to empower everyone in our organization to achieve personal and professional fulfillment beyond what they could find in any other setting. We believe happier dentists and employees lead to better patient outcomes, resulting in healthier communities and a brighter future for us all. To learn more about our organization, visit OperationDental.com .
Contact

Whether you're curious about our company, investing, or working with us—we're ready to answer all of your questions. For general inquiries, contact us at (407) 487-4757 or visit our website at OperationDental.com.
More about Inc. and the Inc. 5000

Methodology
Companies on the 2022 Inc. 5000 are ranked according to percentage revenue growth from 2018 to 2021. To qualify, companies must have been founded and generating revenue by March 31, 2018. They must be U.S.-based, privately held, for-profit, and independent—not subsidiaries or divisions of other companies—as of December 31, 2021. (Since then, some on the list may have gone public or been acquired.) The minimum revenue required for 2018 is $100,000; the minimum for 2021 is $2 million. As always, Inc. reserves the right to decline applicants for subjective reasons. Growth rates used to determine company rankings were calculated to four decimal places. The top 500 companies on the Inc. 5000 are featured in Inc. magazine's September issue. The entire Inc. 5000 can be found at  http://www.inc.com/inc5000.
About Inc.
The world's most trusted business-media brand, Inc., offers entrepreneurs the knowledge, tools, connections, and community to build great companies. Its award-winning multiplatform content reaches more than 50 million people each month across a variety of channels including websites, newsletters, social media, podcasts, and print. Its prestigious Inc. 5000 list, produced every year since 1982, analyzes company data to recognize the fastest-growing privately held businesses in the United States. The global recognition that comes with inclusion in the 5000 gives the founders of the best businesses an opportunity to engage with an exclusive community of their peers and the credibility that helps them drive sales and recruit talent. The associated Inc. 5000 Conference & Gala is part of a highly acclaimed portfolio of bespoke events produced by Inc. For more information, visit www.inc.com.
For more information on the Inc. 5000 Conference & Gala, visit http://conference.inc.com/ .